2021 Outcomes & Highlights:
Supportive housing & treatment services were provided to 489 clients across all programs.
Individual substance use disorder counseling provided 2,795 hours to our clients and 1,156 hours of psychotherapy.
Benilde Hall provided 19,779 units of group counseling for substance use disorder treatment and 386 units of Dialectic Behavior Therapy.
To be successfully discharged from Benilde Hall, clients must be abstinent, have consistent income, and move to stable housing. In 2021, 69.9% of the clients were successfully discharged from the Benilde Hall Program. 
Benilde Services, a compensated work program provided employment opportunities to the men of Benilde Hall. The program provides lawn care, nursery & landscaping, painting, snow removal, and repair services. Benilde Services mowed and maintained over 200 city lots in 2021.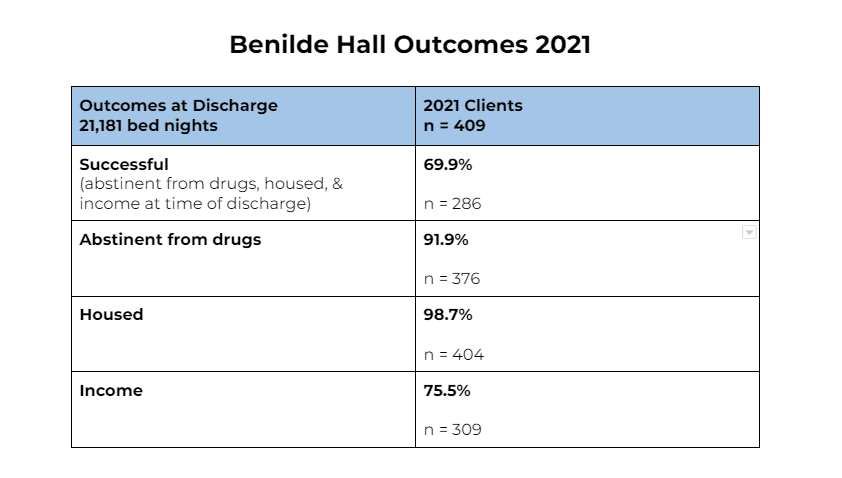 2021 Services provided at the Benilde Hall Main Campus included:
Housing – Transitional housing services and long-term independent housing.
Substance Use Disorder Treatment – All residents must participate in a recovery program that includes group counseling, community groups, individual counseling, and community service.
Services for Persons with Co-existing Disorders – On-site psychological services for clients with a dual diagnosis of substance use disorder and mental illness.
Case Management – Depending on the unique needs of the resident. They may receive additional services including employment counseling, financial & independent living skills, recreation activities, legal advocacy & referrals, transportation, spirituality, and referrals to community self-help groups.
---
Testimonials: 
"Saved my life, been clean for 4 years" - Anonymous
"Great resource doing great things!" - Anonymous
"This place helped me get my life back in order" - Anonymous