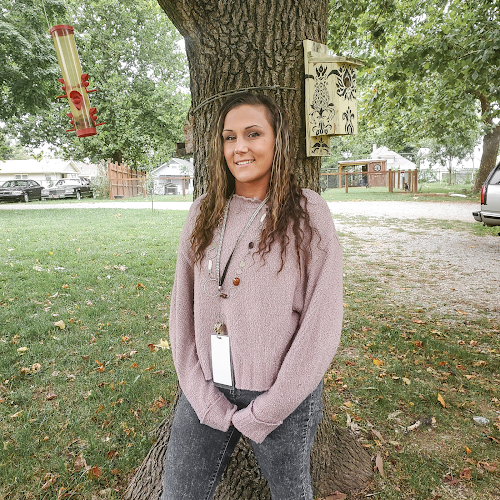 Crystal Donovan grew up in Springfield, Missouri, where she lived with her mother, four brothers, and two sisters. She has six brothers but only grew up with four of them. "I grew up a little bit rough," she says. "My dad went to prison when I was five." She spent her weekends visiting her dad in jails and prisons when she was younger. Crystal's mom worked hard to provide for her family. "I had to grow up pretty fast," says Crystal. "I helped a lot with my brothers." Crystal began experimenting with drugs at the age of 11. When she was 12 years old, she entered her first treatment program.
   However, after she finished her first treatment program, she continued to use substances. Crystal spent time in and out of treatment centers and juvenile detention centers as a preteen and teenager and dropped out of school in 8th grade. "I ended up having a baby at 15," Crystal says. "Due to my addiction, he was placed into state's custody. That's whenever my addiction took off." What started as using substances on the weekends turned into an addiction. Crystal received a DWI due to alcohol consumption at 18 years old.  She continued going to treatment centers throughout her teenage years and young adulthood. "In that time between 15 and 20, I ended up having four children, and they were all taken away from me in my addiction." In her early twenties, Crystal says she "started getting into a lot of trouble, stealing cars and robbing." The first time she went to prison was at 23. The third time she went to jail, Crystal began her sobriety journey.
     Before Crystal's sobriety, she experienced chronic homelessness. Other times she had been homeless by choice, but the last time she was homeless was because she had nowhere left to stay. "Nobody wanted me around. I was living in a car that was stolen. I didn't have anywhere to go." After getting arrested for the last time, Crystal decided it was time to get sober. "When I got arrested, I knew that if I was going to continue using, I was going to die, and I didn't want that. So I started making changes." Crystal began reflecting on her past actions. "I remember writing this paper whenever I was in prison about how I say I want change, but I do the complete opposite of what change is." While in prison, she became involved in the 12 Step program. After being released from prison, Crystal listened to the advice she received from her counselors and those in long-term sobriety. "I made a decision while I was in prison that while I was released that I wasn't going to go back home." She decided to move to Kansas City.
   While in Kansas City, Crystal stayed in a sober living house. She started training to become a peer support specialist, and Benilde Hall's Executive Director, Ken Vick, was one of her instructors. He encouraged Crystal to apply for a position at Benilde Hall in July 2019. Crystal decided to wait a few months before applying. In October 2019, she got married, and in February 2020, Crystal and her husband Ryan had their first child together. Unfortunately, their son passed away due to a condition called Bilateral Renal Agenesis, where a child is born without both of their kidneys. The death of her son was extremely hard for Crystal and her family. She decided to reach out to Ken and told him she was ready to start working in the field of recovery.
     Crystal is involved in the recovery community in Kansas City and regularly attends 12-Step meetings. The road to recovery for Crystal has involved taking action. "I feel like we have a lot of tools, and we have a lot of material that we can take in, but if we're not putting action into it, then this thing will not work. It's okay to be vulnerable. You have to be able to share things with other people and trust that you can recover." Her involvement in the 12-Step program and her spirituality has helped her the most in her sobriety.
    Today, Crystal works as an Administrative Assistant at Benilde Hall. She celebrated three years of sobriety on July 13th, 2020, and will be celebrating one year of marriage on October 5th.  "I gained a lot of things since my sobriety," Crystal says. "I have a good relationship with my family now. I have people that trust me, a husband, I'm able to pay my bills." For Crystal, it is crucial to focus on the present-day instead of living in the past. "Living in the solution is important rather than living in the problem. That's when real change can take place through being honest, willing, and open-minded." She believes that people need to understand that addiction is a disease. "I think it's important to know the disease of addiction. It doesn't discriminate. Old, young, rich, poor. If we're willing and if we're open-minded to different ideas and suggestions, we all can recover."