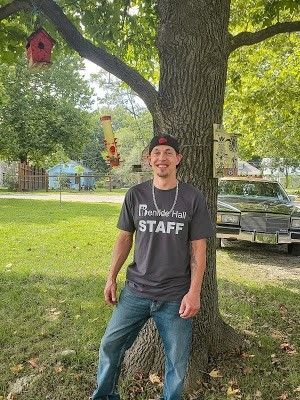 Chris Hudson was born in Springfield, Missouri, and grew up in Kansas City, Missouri. He is a high school graduate, and for most of his life, he did not experience substance use disorder. However, after the passing of his girlfriend in 2008, Chris began to experience severe depression. What started as "dabbling" with substances quickly escalated into addiction. Chris lost his job, was unable to pay his rent, and experienced homelessness for five years. "I realized that even when I got what I was looking for, it still wasn't making me happy." 
    Chris had a near-death experience that he describes as "eye-opening." He was also looking at the possibility of facing 7-21 years in prison if he didn't attend Drug Court. The following week, he expressed to law enforcement that he needed in-patient treatment.  However, Chris had a recurrence of substance use the first time he started his treatment at Benilde Hall, which led to 30 days of incarceration. Chris then came back to Benilde Hall, where he stayed for two years. 
    For Chris, he says that "staying busy, working, keeping my hands busy" has helped him the most in his sobriety journey. Pastor Ken Pegue, a former Benilde Hall client and person in long-term recovery, inspired Chris when he was a client at Benilde Hall. "If he held a group and I wasn't at work, I really tried to make it to it." Chris also stresses the importance of being aware of your triggers, such as conversations with others glorifying substance use, spending time with people engaged in substance use, or dreams in which there is substance use recurrence. He recommends for those in recovery to be careful who they choose to spend time with."There's no sense in unnecessary risk," he says. 
    Chris explains that his goal for a better life contributed the most to his success. "But ultimately what really helped me was my desire...because life truly is what you make it." He goes on to elaborate that "...some things are out of our control, but ultimately what you strive for is what you're gonna get." He started working at Benilde Hall in April 2017, where he works as a van driver and a monitor. On June 24th, 2020, Chris celebrated four years of sobriety.