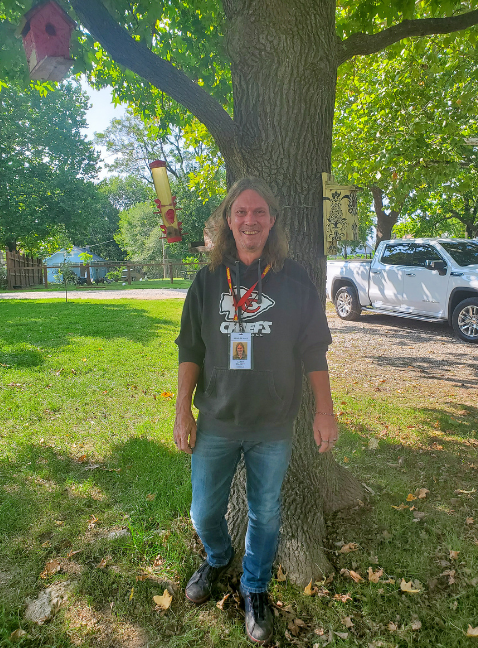 Larry Elliott had a stable home life growing up. His father was in the military and while he was on military assignments, Larry lived with his mother and his grandparents in a small town. Larry was taking high school classes when he was 12 years old because he was ahead of his grade. Larry started to become friends with his older classmates, who were drinking and using drugs. He began to use substances, which led to him from being a "straight-A student" to dropping out of high school. When he was in his mid-twenties, he earned his GED and decided to go back to college where he earned a Bachelor's degree at the University of Kansas and then went to law school. However, due to his addiction, he did not finish his law degree.
   Larry realized that he needed to get help for his substance use disorder, or else he was "either gonna go to prison or die." He began his recovery journey on May 7th, 2018 when he went into a 28-day rehabilitation program. "I'd been using for 42 years and when I went in, I knew that I had to change my entire life." After completing the program, Larry decided to become a counselor because "they [the counselors] had saved my life." Before Larry could become a counselor, he had to maintain sobriety for two years. During that time, he took on temporary jobs to make ends meet. Almost exactly two years after he left rehab, he started his counseling internship at Benilde Hall. In June 2020, he became a counselor.  Aside from counseling clients, Larry teaches several weekly classes at Benilde Hall such as Cultural Competency and Diversity, Spirituality, DBT, Men's Work Ethic, Seeking Safety, and Relapse Prevention.  "Whenever I have extra time I actually even just sit in on groups that I don't do here just to learn from them," Larry says.
   For Larry, his determination to stay sober has helped him the most in his recovery journey. He has also found great support from his wife, his family, attending a 12 Step program, and working at Benilde Hall. Larry's advice to his clients is to "Find things to do that are fun, find joy in your life, find something that has meaning to you, and purpose to you and go for it. Try to form a spiritual lifestyle based on spiritual principles, not necessarily religion but spirituality." Larry finds joy by spending time with his family, camping, going to concerts, attending 12 Step events, going to restaurants with people in recovery, and spending time with his dog. "You can find a lot of life to love if you just try," he says.