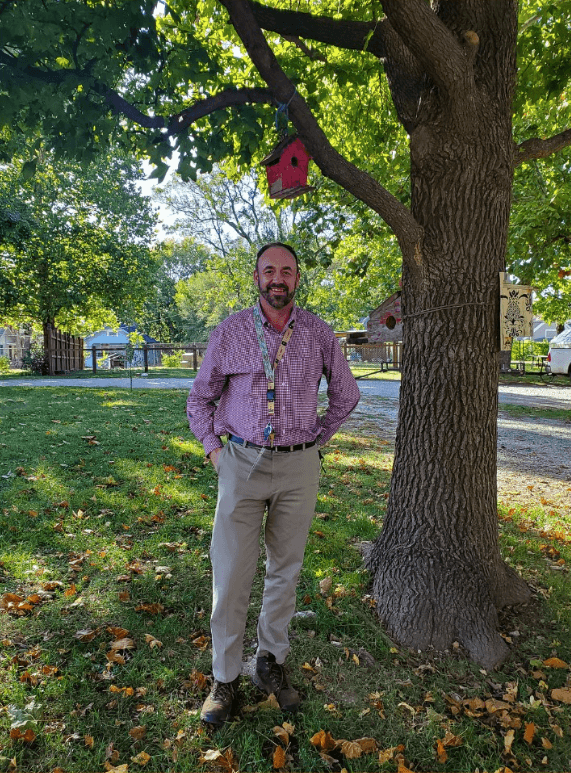 Ben Roberts is a counselor at Benilde Hall. He earned his Associate in Applied Science (AAS) in Addiction Counseling from Kansas City Kansas Community College in 2020. Ben completed both of his counseling internships at Benilde Hall and went on to work as a counselor in April 2020. In September 2020, Ben earned his Missouri Associate Alcohol Drug Counselor I (MAADC I) and recently applied for MAADC II.
Ben is a disabled veteran who received treatment through the Veterans Affairs program (VA). He finished high school and completed some college before going into the military. After the military, Ben struggled with substance use disorder and post-traumatic stress disorder (PTSD). His addiction lasted from his late twenties and throughout his thirties. He struggled with homelessness in his addiction. He went through a veteran program called Chapter 31 Vocational Rehabilitation and Employment. Ben also went to a seven-week inpatient PTSD clinic in Topeka, Kansas called the Stress Disorder Treatment Program (SDTP). He says that his time at SDTP helped him understand how his PTSD and substance use disorder were occurring together. After he completed the treatment program, he was able to receive housing through the U.S. Department of Housing and Urban Development-VA Supportive Housing program (HUD-VASH).
Ben believes that the best way to help veterans combat homelessness is to spread awareness about the resources available to them. Even if a veteran has a negative discharge, they are still eligible for veteran benefits. Veterans are eligible for VA benefits if they have an Other Than Honorable Discharge (OTH). However, veterans who were discharged under dishonorable conditions are not eligible for benefits.
Ben's advice for veterans in recovery is to admit that they need help. "We're taught not to surrender, never quit, never give up," Ben says. "You know, those are the things that are engraved in your brain as a vet or as a soldier, right. So to give up alcohol or to give up drugs is admitting defeat. And it can't change without admitting defeat. So to surrender, I think, is the most vital part." Practicing mindfulness and spending time with his family has also helped Ben in his recovery.
In the present day, Ben lives with his wife and their five children. He is a full-time student studying Social Work at the University of Kansas. His goal for the future is to get his Master's degree in Social Work and to work with veterans. Ben will celebrate three years of sobriety on November 17th, 2020.